ADVANCED FIELD PRACTICE ON EARTH SCIENCE I, II & III
"Geological field excursion in Japan I, II & III" of "Advanced Field Practice on Earth Science I, II & III" (Masters course programs) are quite different from excursions for undergraduate students. They are also different from other practices of the lectures. Please read carefully below before applying for the excursions.
In the excursions, we will choose a geologic map (1/50,000) of the Geological Survey of Japan etc., and visit the area of the map. The geologic map is not decided in advance, but participants will choose one by lot. Although you can select regions of maps before drawing a lot, it is not usually allowed to select only the Shikoku region. You can choose a few candidate maps by lots and select one of them.
In some cases, it may not be easy to visit the area of the map, but we will basically follow the result. It fully depends on your (or our) luck.
After a geologic map is decided, participants will be required to study the geology of the area through the map and other literature, and to select some excursion stops, which seem to be interesting, before the excursion. We can discuss excursion stops, but they will basically be decided by participants. When the rough plan for the excursion is decided, we will prepare topographic maps etc.
Before and during the excursion, participants will be requested to explain the geology of the area or outcrops to the others based on information from the geologic map and other literature. Then we will discuss it. If we have anything we cannot understand during the excursion, study them after the excursion and discuss them with us.
Please do not expect me to teach you many things. In most cases, we will visit places where I have never been, and I will have little knowledge about there. One of the purposes of the excursion is to enlarge our (including me) experience through observing, thinking, and discussing what is new to us.
Please apply for "Geological field excursion in Japan I, II & III" only if you agree to the way of the excursions (above). If you do not agree, you should apply for the other practices. If you have any questions, please ask me before the application.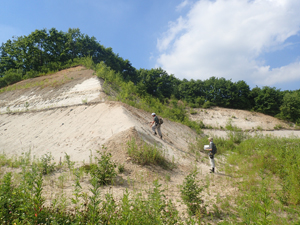 Excursion in the "Nukanai" district
(Makubetsu Town, Hokkaido Prefecture; July 2017)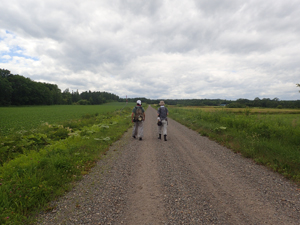 Excursion in the "Nukanai" district
(Makubetsu Town, Hokkaido Prefecture; July 2017)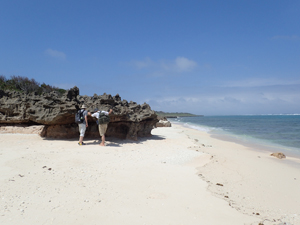 Excursion in the "Naha & Okinawashi-Nambu" & "Itoman & Kudaka Jima" districts
(Nanjo City, Okinawa Prefecture; July 2018)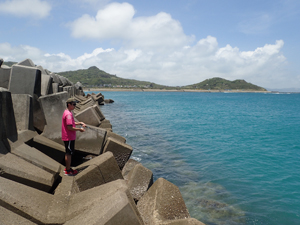 Excursion in the "Naha & Okinawashi-Nambu" & "Itoman & Kudaka Jima" districts
(Naha City, Okinawa Prefecture; July 2018)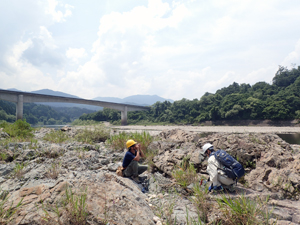 Excursion in the "Takada-Seibu" district & neighboring areas
(Aga Town, Niigata Prefecture; July 2019)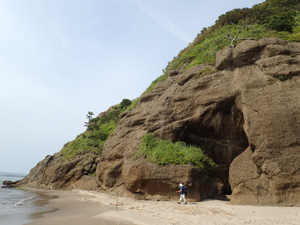 Excursion in the "Takada-Seibu" district & neighboring areas
(Niigata City, Niigata Prefecture; July 2019)